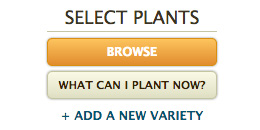 With over 4000 vegetable and other edible plants to offer, and 150 pieces of information about each plant, Smart Gardener wants you to get the right vegetables, herbs, fruits, and cover crops for your garden.
You can filter your results by your region, food preferences, suitability to heat, shade, drought and even vendors. The goal is to present you with the best results targeted to your conditions and needs.
Don't find what you want? Easily add a new variety to our over 2000 user created varieities.