A Garden Guide that keeps growing.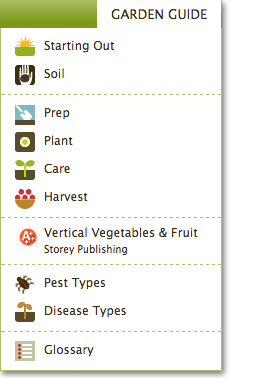 One stop gardening information.
Our Garden Guide compiles the most important information, tips, videos, and links, to get you what you want to know quickly. As your digital resource, it helps you learn, explore or find information that's meaningful to you.
Browse it, or drill down for more in depth information. We've included videos, photos, diagrams, definitions and even products we think are helpful to getting started or just being a successful food gardener.
Some of our partners are even responsible for sections - like Safer Brand for organic pest and disease management, or Irrigation Direct who provides great irrigation information and solutions for your garden.
There is even an exclusive chapter that comes with our Vertical Gardening Smart Add On that covers everything you need to know about vertical gardening, the different support structures and how to make them yourself.