eCommerce
Handpicked garden products.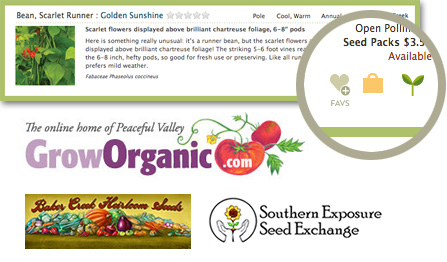 An option to buy.
Search, select and collect your plant varieties, then have the option to buy them as well. Smart Gardener makes it very easy and convenient for you to purchase the seeds you are using to plan your garden. Our seed partners are considered the best in the business for organic, non GMO, high quality seeds.
Add Ons That Add Value.
Smart Add Ons are optional extensions to your SmartGardener account that you can buy for a small fee. Smart Add Ons enhance your garden by adding new functionality, content and the ability to personalize what you are growing and how you want to grow it. Harvest Calculator, Vertical Gardening, Square Foot Gardening, Succession Planting and more. They come priced both individually and bundled from $.99 to $4.99. Find them under the GOODS menu.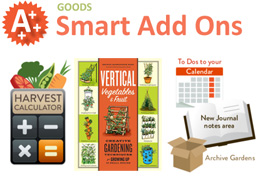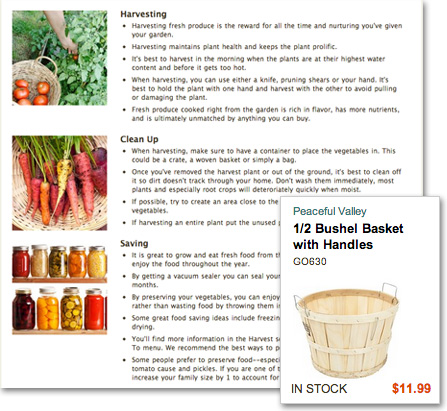 Relevant garden products.
Smart Gardener offers personally selected products that we believe can help you be successful at food gardening. We pick specific products we think are worthwhile and display them alongside our Garden and Plant Guides.
If you are reading about soil testing, we want to make it easy for you to buy a soil test. Our chapter on harvesting your bounty also gives you access to canning supplies and other related products. Click on a product at any time to get more details.
A centralized Shopping Cart.
Our Shopping Cart consolidates all of our partners products conveniently in one place.

Clicking the "Buy..." button will take you to our Partner's site. Your order will be transferred automatically into their Checkout Shopping Cart, making it easy for you to complete the purchase without having to reenter all your product information again! They'll ship you your products and handle any questions.